Just Riding Along seems to be gaining some traction in recent episodes. If you aren't sure what I'm talking about, you can check it out here: Mountain Bike Radio- Just Riding Along
The past few episodes, we've actually had more write-in questions via Facebook than what we can cover in the show, which is great, because it's very effective insurance against dead air- on a related note, if you want to be 100% certain that we fully discuss a topic that you want information about, I'd suggest actually calling in during the show. We often times have to speculate, which is fun, but may not give you what you're looking for. Added bonus- you're also much more likely to win the giveaway if we've got one.
Since it seems we've got a good listener-base, I've also been trying to procure some product to test/review/talk to someone about on air, and, so far, I'm 0 for 3. Apparently, no one other than Bruce Dickman from ProGold sees the value in internet radio shows (nothing wrong with that, of course- we're pretty huge fans of their products).
On the training front, everything is chugging along. I'm putting in approximately 15 hours per week (give or take), and, though my legs were arguing with me yesterday about the intensity of some 15 minute intervals (I eventually won the argument, but it took lots of loud music and hurt a lot), everything is going pretty well. The weather here is back to 40/windy/humid as f*** for the foreseeable future, so my volume is acutely stunted by taking to the occasional trainer ride. Not that I can't get out in that stuff…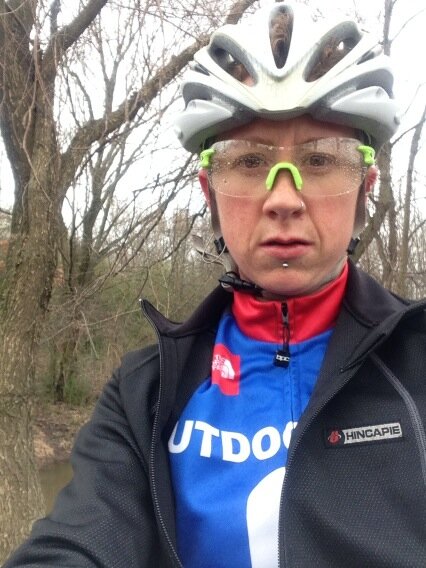 …it's just some days, 40 and raining feels less tolerable than others.
In "mechanic of the century" news, I found one last thing that got killed by the mud/powerwashers at CX Worlds. Fullface Kenny was giving me a hand with a quick check of tension on my 2 sets of I9 wheels (normal suggested maintenance after the first few rides) when he found that all of the outboard bearings in my i25 road tubeless wheels were dead (not the wheels' fault- this is guaranteed to happen to any bearing if you're sloppy with the pressure washer). I hadn't touched them other than one washing since we'd come back home, so I'd totally missed it. So, it was impromptu hub rebuild time at the shop. Luckily, Kenny has continued my legacy of bearing hoarding at the shop, so I was able to replace everything that was crunchy. I got artsy with Instagram (again).
P.S. In case you were wondering, after a little thrashing- including both Syllamo and Tour de Wolf (read- irresponsibly fast launches from washed out root drops), the Trail 24s were in near-perfect shape.
Finally, in "EVO Saga" news, Cannondale has responded favorably to my previous blog posts about my frame issues (I was actually contacted directly by Mandy Braverman from @CannondaleWomen on Twitter). Previous issues aside, it's nice to see a company that responds to customer issues rather than ignoring them/pretending they don't exist, or, even worse, deleting them from existence when posted in a public social media spot (ask Dan Hensley what he thinks about Specialized's views on IMBA Rule #2). As of Tuesday, they are supposed to be shipping a new bike my way. This one should be non-defective and totally compatible with any PF30 bottom bracket available. I plan on tearing my current frame down again today in preparation for the new one's arrival, though I'm not getting too excited just yet, because I don't know if it's shipped. I'll keep you posted.