I think it's some sort of sick joke that the powers that be schedule the singlespeed CX race to go at 8:00a.m. on Sunday morning. Other than the potential for frigid temps, it doesn't bother me (and lucky for me, it was unusually balmy Sunday morning). However, singlespeeders are notorious debaucherers…
From the singlespeed world championship event in Portland, OR: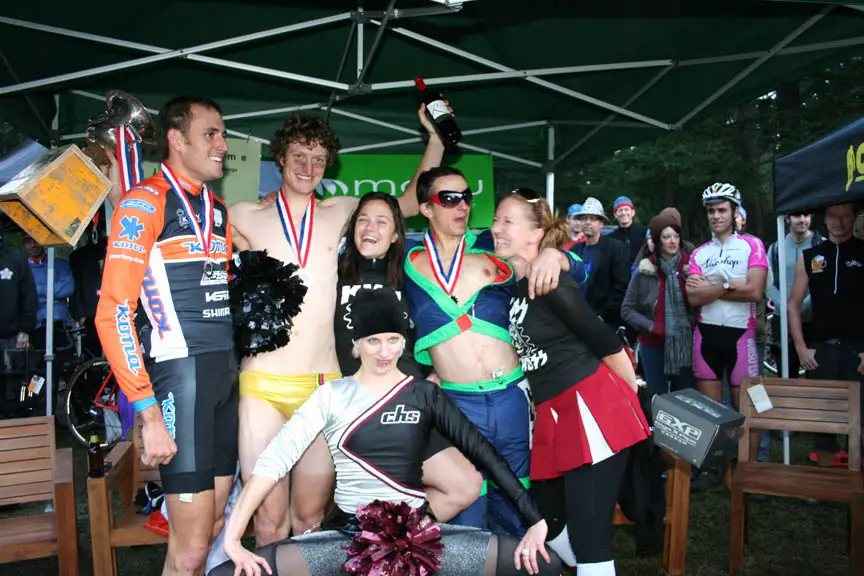 I was hoping for some craziness at the line for my race, but, alas, other than being weird enough in the first place to want to ride a cyclocross race using only one gear was as odd as it got.
There were 82 starters, though only 55 official finishers. Why the 27 DNFs? Honestly, I have no idea, but I'm guessing it was a combination of a wreck in the first 100 yards as well as the countless riders I witnessed with dropped chains… I'm going on a little bit of a rant here: What's with the dropped chains?!? I consider chain tension something to check along with tire pressure before every single ride. Maybe I've just been lucky, but it's never been an issue for me.
Anyway- back to the race…
When the official blew the whistle, we took off at full spin. As we passed the beer tent, someone from the sideline yelled, "SHIFT, DAMNIT!" A second or two later, someone must have tried, because there was a giant pile-up just before as well as just after turn #1. I used my elite wreck-avoiding skills to jump up a few positions as I negotiated my way through the melee. From there on out, I rode hard and had fun. I don't know if I ever "turned myself inside-out" (in the words of the great Dave Towle), but I was pretty damn exhausted when I got pulled in 45th place just before the leader (who lapped me about halfway through my last lap) got the bell for his final lap. The only other woman in the race (Elizabeth Shogren- Sobe Cannondale) finished in an awesome 22nd place and went on to finish 35th in the Elite women's race.
Some photos:
These are just a few of the singlespeed photos that Ryan took. For more, including Master's men 30-34, Women 30-34 and 35-40, elite women, a few elite men, and some candids, check out Ryan's KCCX PHOTO PAGE
After cleaning up and checking out of the hotel, Ryan and I went back to watch the Elite races. However, plummeting temps and a parking situation with potential to become a supreme cluster-ufck led to our leaving about halfway through the men's race.
Fun. Hopefully the race remains centrally located so that we can go again next year!